GRAVmag 177 Edition Magazine For Crosman 2240 2250 Steel Breech and Benjamin Discovery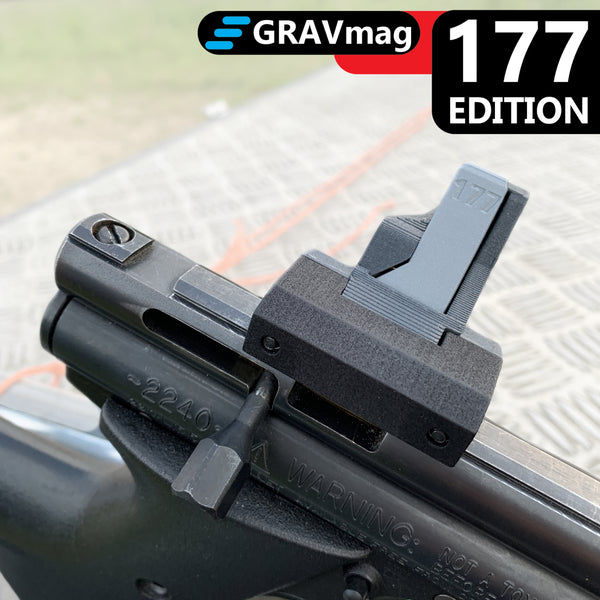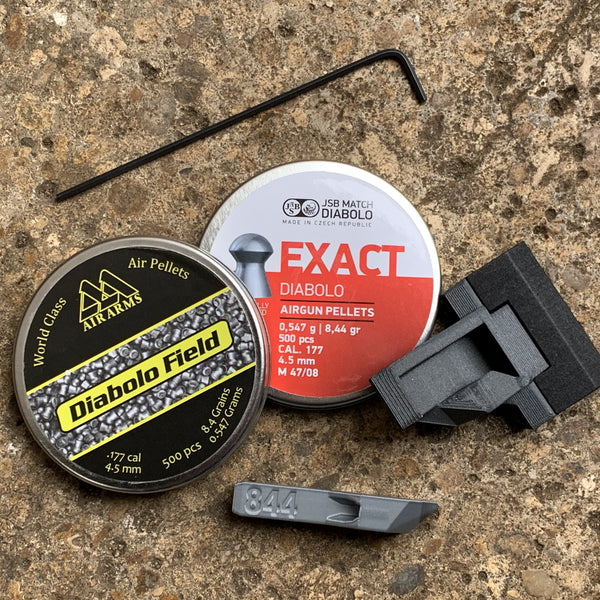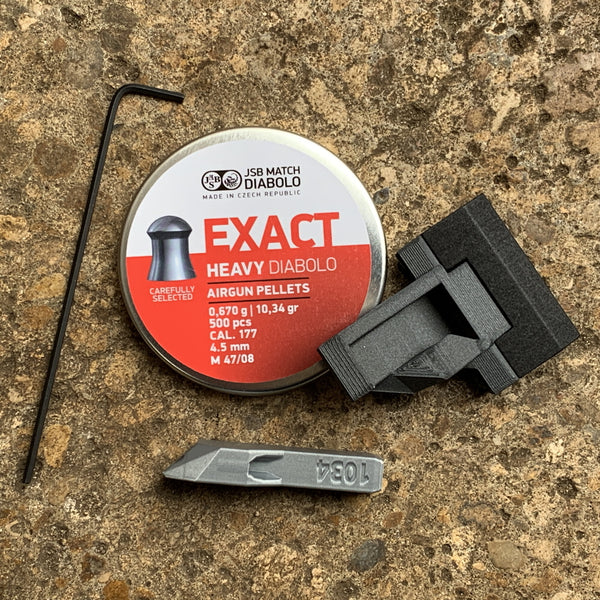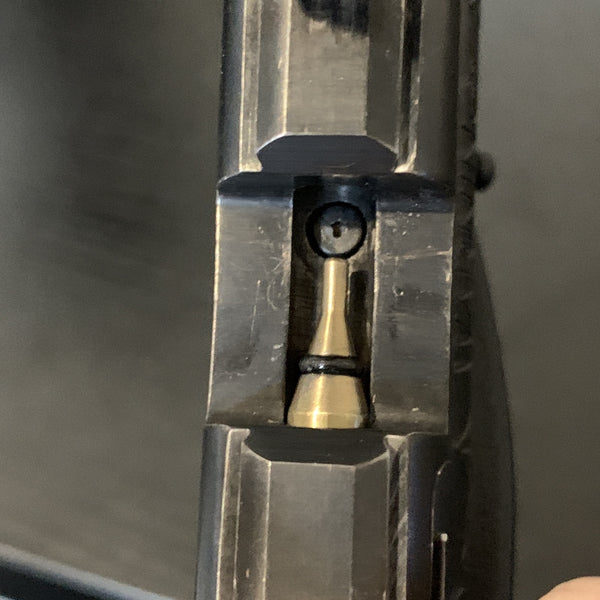 What are the compatibility Requirements?
For the GRAVmag 177 Edition to work, you will need the following:

1. Crosman or Benjamin Discovery gun which has a Steel Breech fitted

2. An extended probe from GMAC. This is the thin-tipped model which are numbered 001-0201 and 001-0207 on the GMAC Custom Parts website. This probe is required, but fortunately is available for a good price and will also increase FPS.
3. Lastly, you will need to be using one of the pellet types listed below.
4. If you need help with anything, please don't hesitate to ask me :)
Pellet Compatibility

Both pellet tubes are now included with each purchase
 844 Tube
JSB Exact Diabolo 8.44gr

AirArms Diabolo Field 8.4gr

RWS Hobby 7.0gr 
1034 Tube
JSB Exact Heavy Diabolo 10.34gr
Due to the small size of .177 calibre. Only these pellets are compatible. But the magazine has been meticulously designed to suit these select pellets very well. Tested with hundreds of rounds to ensure reliability. If you would like help choosing the pellet which is right for you, please let me know.

Description
This magazine fits onto any 177 Crosman 2240 2250 2250xl 1377 or Benjamin Discovery steel breech. It converts your single shot Crosman 177 into an 11(11+1) shot magazine fed, auto indexing Crosman 177. You can top your magazine up between shots -without needing to remove anything. As well as giving your Crosman multishot-abilities, this magazine also makes it much easier to load the gun, since it moves the loading action further away from the steel breech- especially useful when using a scope.​​​​​​​
Breech Compatibility
This magazine is compatible with any Crosman steel breech. The GMAC Extended 177 probe must also be used (see top section for info).
Scope Compatibility
Since the magazine is at a 45 degree angle, it can be used with most scopes and red dots -see the pictures for examples. The magazine sits only 10mm above the steel breech rail, so as a general rule; if there is at least 10mm of room between the top of your rail and the bottom of your scope, the magazine will fit. Your scope mounts can also be easily moved to accommodate the scope (if needed). If you need help with this, please ask.
Features
11 pellet capacity

Smooth loading

Automatic index

​​​​​​​No disassembly required

Everything you need is included

Magazine can be topped up whenever, even between shots

Pellets can't fall out

3d printed at very high quality in a carbon fibre composite; lightweight and durable

Each kit takes over 4 hours of printing to ensure maximum quality

Tested with 1000's of pellets
Extra Info
To ensure that the magazine works as smoothly as possible, I highly recommend applying a small drop of Crosman Pellgun Oil onto the probe o-ring. This is very inexpensive and makes your gun/magazine overall much smoother.

Video instructions will be supplied. If you need help or have questions about anything I am really happy to help.
I aim to dispatch orders within 24 hours, but sometimes this is extended to 48 hours due to a busy schedule.
​​​​Thank you.